Details

Category: Completed
Published on Thursday, 20 November 2014 17:31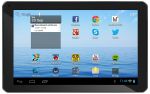 Denver TAD_70111A few days ago i bought a cheap android tablet. It was a "Denver TAD 70111". It sported 4gb of hdd, 512mb RAM as well as a 7 inch screen and Wifi connection. All for the price of DKK300 (aprox $50).
I bought one and tested it. I was quite impressed with the amount of tablet you got for the money. Only problem was that I could not get the adb-link to function properly.
Therefore I could not install homebrew software or even gain root.
Denver (which is a Danish company) does not have any hardware development themselves, so the tablet was likely a cheap rebranded chinese version. In any case Denver was not inclined to help me troubleshoot the adb link.
So I began trying...
Read more: Rooting a cheap chinese tablet (Denver TAD-70111)
Details

Category: Completed
Published on Friday, 21 November 2014 17:09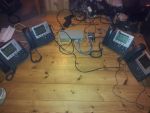 4 phone Cisco/Asterix setupThe place where I work, decided to change IP phones. Therefore they changed all their old Cisco 7940/7960 phones in favor of Microsoft Lync. This ment the container was full of really nice phones, and I decided to put them to use - while keeping costs as low as possible.
These days, VoIp service is fairly costly if you do not need 25+phones connected. On the other hand,mobile plans being cheap and almost flatrate (at least in Denmark). Therefore I decided to connect a 3g modem as connon phone-trunk for the Cisco Phones.
Read more: Setting up Asterisk for Raspberry Pi with Cisco 7940 phones and 3g modem
Details

Category: Completed
Published on Sunday, 15 January 2012 20:46
Why extend the range of the routers?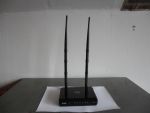 Hacked D-LINK
I am building the infrastructure of a network at a scoutcentre in Jutland.
It might sound like a trivial task, but money is severely limited and demand is high.
There are usually around 30 clients on the wireless net and around 60 when in peak periods.
This number will certainly rise as most young people are carrying smartphones at alle times.
The network so far consists of a wired backbone and a bunch of smaller wireless
repeater-islands for places where wired net is not feasible. These repeater-stations are, however placed where wireless does not have a direct line of sight, and the off-the-shelf routers cannot cope. New antennas with better rx-tx was needed.
Details

Category: Completed
Published on Thursday, 12 January 2012 22:27
User experience design for mobile devices
In the spring of 2012 I took the course 02266 - User Experience Engineering as a part of the program for my Masters at the Technical University of Denmark (DTU).
Though it was an university course i decided to post it anyway as it was quite entertaining (and a whole lot of hard work).
The main objective of the course was to teach the students how to create a nice user experience on an array of different devices. Assignments was mostly given along the lines "Design an interface for use with this project/idea - how can you explot the possibilities in that?"
Most of the prototypes was for mobile devices and made in a trial of Axure 6.0 from www.axure.com
Below is a few of the prototypes we made (I must stress that i did not make this alone and that we were 4 in the group - Sune Andersen, Johan Flod, Allan Munck and Me - credit where it is due ;)